THE SECOND SPRING FESTIVAL

At the time of the second spring festival, we hiked far out into the foothills to an estate owned by my great-uncle Zebedee. At that place, the extended family had gathered around the central focus of the grounds, a deep, clear pond about one hundred feet long by fifty feet wide. Ancient trees gave dappled shade to large flat-topped rocks around the eastern edge. This pond was fed by a large underwater spring, and seemed so magical to me that I thought that even the birds in the tall old shrubs sang of wonderful secrets. From time immemorial, a story in the Holy Books had described this spring as Sacred Ground, and the family had cherished and cared for it for many generations.

Most of the families had brought tents, and the men and boys had put up a tent city of all the stripes and colors of Joseph's coat. In such an encampment, we could almost forget our present domesticated lives and imagine that we were wild desert nomads again as in ancestral times. However, Uncle Solomon and Auntie Sara, incorrigible city dwellers that they were, chose to stay in Zebedee's villa to the east of the spring.

Uncle Zebedee, my Grandfather Joseph's brother, was married to my other Aunt Miriam, who was much younger than he. She was great friends with Auntie Sara, the wife of Uncle Solomon, my father's brother. They lived in the house on the east hill in Jerusalem. Although Miriam and Sara would have liked to play the part of snobbish society ladies, they were held to good behavior by their husbands.

Zebedee, an elder of the family whom everyone looked up to to take care of things, mediated family disputes. A wise and exalted person, he was well respected in the community, and acted as judge for the family, which was to say the whole town. Above medium height, spare, erect and dignified, he had a long white beard and long, thick wavy white hair. A broad high forehead above a large hooked nose gave his face a look of authority, and his lively blue eyes missed nothing. As an All-Knowing One, an Essene title, he had planned this gathering.

I saw him briskly walking about in his bright blue robe, speaking to this group and that, gently and masterfully keeping all arrangements coordinated.

Counting the children, there were between two and three hundred people present. Almost everyone wore white or light pastels for this special festival in this sacred place. On big flat rocks near the pond, musicians sitting in the shade of a tall tree filled the morning with wispy melody. A young man played a flute and another strummed a flat instrument. Several others took turns softly playing two small drums while a beautiful young woman sang in a contralto voice.

Women bustled about preparing the feast, and we children had been told to not get under-foot. The men of the family helped too, because all were equal, even the servants, who were relatives.

This day I became four years old, and I felt quite grown up in my new light blue dress. My parents had also bought new sandals for me, but I left them in a special place in the rocks to be put on later—my bare feet loved the feel of the earth, rocks and plants. We children ran and played. We were lively but not quarrelsome, never fighting over things or hitting each other. We were sweet children, at least that day. Some of the very young children took off their new clothes and were happily splashing in a shallow end of the pond, but I felt too old to join in. I envied them.

Wandering about on the outskirts, I climbed a rocky knoll covered with wildflowers. When I looked up, I saw spirits—tall translucent beings reaching to the sky. With a start, I happened upon Grandfather Snake, self-possessed as ever and stretched out in the morning sun beneath a rock higher than my head. We stared at each other. I felt that he would have winked if he could, and I was glad he was going to be listening.

First I saw Grandfather Snake, then by peering around the huge boulders he was lying under, I spied Isha. He sat out on a flat rock wearing white and completely alone. Deep in meditation, Isha seemed to be a harmonious part of the landscape, very still and alive, like a tree. I knew not to bother Him, but I also knew that He was smiling inside at my furtive snooping.

He began to speak mid-morning, a gorgeous time in a beautiful place, surrounded by his loving, supportive family. He stood by the pool, facing the family gathered around. Affection filled the air, a happy, joyful moment in our lives, a moment of pure love. When Isha spoke, even the children were quiet—no one had to tell them to be quiet. Everyone listened.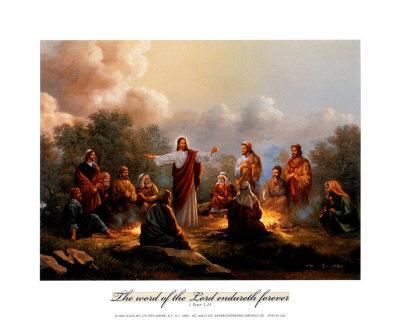 This is what He said:

"Gather around closely,
Oh beloved Brothers and Sisters,
For such we all are,
The children of God.

Even as we are close to one another in the joy of this moment,
We celebrate this day of festivity of spring,
Another holy beginning,
As is every day and second of our lives.

The full moon we will see rise tonight,
Will appear from behind the hill of trees,
Giving us a special light,
The light of the Father,
Sending his message of love to our souls.

A message of the purity of the heavens,
To His Children,
Who will be gathered here at this holy place,
To participate in the ceremony at the beginning
Of this new spring time,
A time of great love and glory
Which we will live in with Our Father,
Who gives us abundant and extravagant love.

This moon will send its light from the hilltop
To the pond, to deep in the pond,
To the depths of Mother Earth and back again,
Apparently reflecting from the surface
Of this water to our eyes and souls.

This new season beginning,
The springtime of this era,
Will create a memory of great wonder.
Will fill our minds and hearts with the new age to come.
An age of creativity, love and beauty,
Such as this world has not known before.

The creation of this new age
Will begin in our minds as a desire,
A desire for the peace and joy we once knew
In the home of Our Father in Heaven.

The fresh new energy of this spring life
Will fill our souls with happiness.
The soft sweet wind of Earth
Will blow gently in our faces,

The breathing and feeling of it will remind us
Of our home with Our Father;
And we will feel a sweet, sad remembrance
Of happiness long ago, a joyful anticipation
Of living life on a star,
From whence we came.

This wind comes from we know not,
And flies across the land to the sea,
A mystery to our souls.

We live here on our Mother, the Earth,
Enjoying Her loveliness;
Yet we know not from whence cometh our very bodies.
From whence cometh our lives in awareness of the infinite?

We see the shoots of green sprouting,
The buds on branches growing,
And the flowering of life in all its glory;
But from whence does all of this issue?

A sweet mystery.
The Mystery of Life.

To the mind, centered on God,
All these things we see, feel and are,
Become part of God's Holy Realm.
Think of these flowers growing,
These wise old rocks and trees about this pond.
Always here in radiant glory,
From now to the end of time.

All this is ours to have,
Surrounding us with the infinite care of Mother Earth,
Reminding us of the presence of Our Father,
And showing us the way to perfect love.

In your devotions,
The living of your very lives,
Every breath, Every thought,
Every word, Every action,
Is indeed a Prayer of Joy with the Father.

It is in the seeking that we find.
It is in the desire and effort that we find the joy of being
With the Great Unknown,
Our Father, Who Art in Heaven.

So it is that in this day in which the Glory of God
Shines forth upon this Land,
This beautiful Mother Earth of ours,
Adorned with fragrant flowers and caressed with gentle breezes,
That we gather about the cool waters of this sacred pool.

A family of love,
A chosen family of glowing light.
Children, Fathers, Mothers, Grandchildren,
Aunts, Uncles, Fathers and Kin,
We are as one.

With our feet dusted liberally
With the Blessings of Our Mother, the Earth,
With our bodies clothed and nurtured
By the gifts of this loving planet,

With much wealth in our possession which blesses us in many ways,
We are happy to be a part of Earth Life,
Gladly becoming more and more attuned
To the natural beauty of life around us, and within us.

Breathe in this glorious air
And feel great joy.
Breathe out this air
And send joy out to our world.

Herein lies a Secret:
Between the in-breath and the out-breath
Is an opportunity for the conception of our lives,
And the ages to come.

For this is a Moment,
A Sacred Moment of Creation:
A precious Moment,
In which a man, woman, or child
Can imagine what is to be,
What was and what is.

Can create the Nows of tomorrow
And all the Nows of eternity,
Today, Yesterday, and Forever.

The infilling brings vitality into the being or situation.
This energy creates a new manifestation of Life.
The breathing out is the outworking this new vitality.

Thus, our very lives are created.
Therefore, let us align ourselves with this moment of Nature's Beauty
And become One with the Creator.

As He creates the eons of time with His Breath,
So do we, His Children,
Create the Nows of our lives
With our inbreath and outbreath.

By breathing in Divine Light
From the sun and the air,
Which is one with the Winds that caress the landscape,
We feel the energy and rapture of Our Father;
The inexpressible happiness of pure existence.

With the blessings of Mother Earth on our feet,
Even on our hands and heads,
We enjoy pure insight and being,
Being one with God,
And one with His Love.

We create anew.
Thus our next outbreath is fully revitalized;
And it goes out as a blessing of God's Holiness to this world,
And to all living creatures on this world.

So it was in days of old;
The days of our fathers of Israel,
And so it shall be in the days ahead.

Re-Creation means to go out
Into life's surrounds,
And infill with its essence of beauty.

Find that new Inspiration by letting go of the old,
And then, being infilled,
Infilled with the love and glory of Our Father's world,
Which He has given to us in love.

This is a sacred process.
This is the momentum
Of God's creativity
Continuing on within us.

Create.
And Create some more.
May His Love be with you,
And His Joy ever creating again and again,
Forever and Forever.
Peace be with you.
AMEN"

Isha was in the here and now for us, affirming and teaching us that we were God's Children co-creating with God: He had reverence for the Earth and spoke of our relationship to Her many times.

Afterwards we had a delicious feast. I was a skinny, hyperactive child who ate enormous amounts of food for my size. I ecstatically tasted, then gobbled all the different dishes. Especially fascinating were the many kinds of small flat cakes, some of which were delightfully sweet. I drank an effervescent kefir-like drink, and greedily carried off round concoctions of nuts for eating later. I saw fruits set out in geometric color arrangements, expressing a reverence for the shape of the fruit and the way it looked, to enjoy it simply as it came from the Earth. I don't recall, in the years that I lived in that family, that they had any particular prohibition against eating meat. Even the Christ himself would go out with anyone and eat whatever they had, making the point that all the priestly laws regarding diet were ridiculous.

During the quiet in the middle of the day a small group of men walked off with Isha and met under a tree. I had been told to lie down for a nap, and did so near them. These men were regulars at Isha's talks in the evenings, and had a few pointed questions about the talk of the morning: Uncle Shmael asked, "And, my brother, tell me if you will, how is it that even the smallest children among us are able to know when they must sit and listen quietly?"

Isha answered, "My brother, indeed even those most directly from the far side of life know the laws, for it is no secret that the spirit of man must obey. These little ones follow, more closely than the rear feet of animals which track their forefeet in the wilds. So it is that as their elders listen, these children listen also, and their ability to absorb the higher meanings of my words would amaze you if you could but see their receptivity in full. These little ones, especially in our family, have this ability to a great degree, for they have been anointed by the Father for special work on His behalf."

Joseph (Grandpa Joseph, my father's father, Joseph of Arimathaea) said, "Tell me, my lad, where do you find the most resistance to these fresh ideas of yours? Is this family in any way your most difficult group?"

"No, not this family, but the greatest barriers are in the organized religious groups and their founders, for these have been charged with the duty of perpetuating their sect and their beliefs so that nothing changes. Without change, all are dead. Do you understand?"

Joseph answered, "Yes, but why have I taken so long to see this? And I do see much good in the old ways."

"I know there is no possible way for men to obtain or keep all truth, yet all men, especially young men, have available directly from life true union, a direct pathway to truth. In your youth as you raised questions with your elders, your questions and doubts derived from your inner communion with God. But being one who desires peace, you accepted other views and forgot your own. Remember that truth comes in pieces, flashes of intuition, and repeatedly, unless blocked out by disbelief."

Joseph said, "Thank you. I know."

Cousin Peter, a small thoughtful younger man, asked, "Why are we here this moment and this day as we are?"

"We are here by the grace of God, by our desires to be. It is this desire to experience life which draws us into embodiment. It is this dynamic which supplies the seed, as it were, to generate into this family those whose past experiences together focus on a step--as you will--which holds for each one an opportunity to advance in beingness.

Similarly, this day is like all other days in that it is unlike all other days. Within this dichotomy lies the import and reason for being. Thus we have the necessity to be aware of this moment in time, and, with it all rewards available at this moment, which can become obvious to us by surveying this landscape. The family upon its face listens to the murmur of peaceful voices, the rush of air sweetened by flowers and the sparkling water reflecting dynamic rays of sunshine.

"But beyond that, the inner heart of man reaches out to an infinite meadow of beauty of music of perfection which knows no end, but which is just as real as it is unseen by mortal eyes. My brothers, this scene before us is but a reflection of that which exists but unseen.

"There are no ends, no fatal moments, nothing but passing effortlessly between two poles, if you like, of existence.

"Each has its purpose, each brings its music, and each has its celestial beauty."

It was easier for Him that day to teach the family than when He taught the rabbis at night, because the rabbis' minds were so cluttered with intellectualism's that sometimes a simple matter of which He was speaking here did not seem to penetrate. However, the family, for the most part, understood Him immediately, and was receptive to His words. Love filled the air, making this a wonderful experience. It was our desire that that day be perfect, and it was.

From two to four in the afternoon everyone took a nap. When the shadows were longer, we all went down to the water. Clearly mirroring the old trees, the pool reflected the late afternoon sun and tuffs of clouds in a blue sky. Softly brushing our faces with gentle kisses, the warm dry Wind-child of Spring whispered of spring blossoms and new life.

At that time, I felt that we and the world around us existed in perfect synchronization, the moment caught in a forever golden dream. Even the white lilies overhanging the pond seemed to glow of brilliant rainbow colors. As He waited to speak, our beloved Isha sat quietly by the pond. I thought, "I want this moment to last forever. I want this to last forever."

Fascinated, we children got up close to hear. From his perspective, looking at our sweet, innocent faces, He loved us so very much, wishing that the people all the time could be like these children, open and hungry for His words and so understanding. He sent us a burst of energy, surrounding us with an aura of enormous affection. I felt enveloped in an overwhelming strong white warmth, a communication of pure admiration, saying, "I like you. I think you're beautiful."

Looking expectantly at Him through bright shiny eyes, we thought He was wonderful. It was as if we were sealed off from eternity in a timeless world of powerful energy formed by the circle of love between Isha and us.

He began to speak:

"A flower like this one (He pointed.)
Grew close enough to the edge of the water
To see into it.
Flower watched the blue sky,
The white clouds,
The sun, the rain,
And the bees.

Flower felt the kindness
Of Mother Earth
Feeding with love
Its stem, its leaves and its head.

So it was that one day
A cold wind came,
And it, the flower,
Knew that the time had arrived
For seeds to be made.
These seeds blew
Across the land and the water.
One day new plants with flowers grew
From those seeds around the pond.

The new flower watched in the water
The blue sky, the white clouds,
The sun, the rain,
And Lady Bee,
Who came to enjoy the sweet honey
Which flower gave with love.

The sweetness of life
Is all around us, children,
As flowers around mothers and fathers,
All can give the sweet honey of life to one another,
And to strangers like Lady Bee.
In love, and with sweetness.

For one day, the cold wind will blow,
And seed time will come.
Little flowers, little flower seeds,
Will travel across the land and the water
To find new homes,
But always upon the beauty
Of Mother Earth.(1.)

So it is that we give love to our families
And sweetness to all strangers we do not know;
For this is the law of life on Earth,
That we share the sweet home of life
With all others."




1."To find new homes, but always upon the beauty of Mother Earth," meant that this family would in later lives settle in the area now known as the United States; first as American Indians, then as white people of the nineteenth and twentieth centuries.
Last edited by lorae (Tue 15th Feb 2011 03:54 pm)