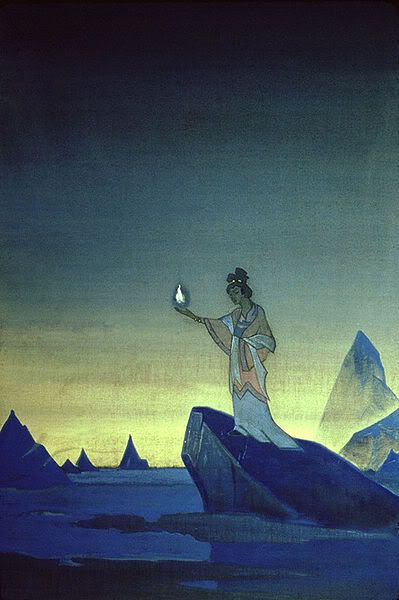 A painting by Nicholas Roerich, a true Warrior of the Light http://en.wikipedia.org/wiki/Nicholas_Roerich
To Serve the Light
An address given by Dolores Ashcroft-Nowicki
at the 1996 SOL Conference
by Dolores Ashcroft-Nowicki
We live in strange and terrible times. When you hear of sixteen 5-year-old children being massacred as they played, or watch on the television the aftermath of terrorist bombs with the bodies of innocent men, women and children lying around, one might be forgiven for thinking that Nostradamus was right. As we draw closer to the end of this fear ridden century there seems to be very little "love of one's fellow man" around.
Since 1990 we have seen more scientific progress than at any other time in recorded history. But peace, friendship and compatibility are in short supply. Politicians tell us that we have had peace for fifty years but the truth is that the world has been at war in one part or another for almost a century.
Yet, in the last thirty years there has been an upsurge of interest in everything to do with the occult, Theosophy, Ancient Mystery Religions, Witchcraft, Shamanism, and alternative therapies of every kind. How is it then, that while much of the world is seeking a spiritual life, joining groups, Orders, Schools, attending workshops and seminars etc, we still do not seem to be making progress towards our goal of world peace.
Because I travel so frequently and to so many different countries I have had the opportunity to observe many different groups at work and to talk to people about their approach both to the world as it is today and their belief systems. In my travels I have seen a recurring syndrome which amounts to what I have called The Maze Effect.
We have in England many mazes, some made of living plants, others of wood or even stone. All have the same thing in common: they are easy to enter and hard to get out of. In fact the Maze is a very ancient symbol often used in the Mystery Traditions. Then it was often a part of the initiation process and the Neophyte was ushered in with great ceremony and then left to find his or her way to the centre, to where they had been told they would meet The God. There they would receive the Touch of Divinity, would become one with the God-Form and return to the world bringing back, as all initiates do, the gift of the Gods - Knowledge. Sometimes they got lost on the way in, most got lost on the way out, but those who made it never spoke of what they had encountered there at the dark, mysterious centre of the Maze. But one thing was certain according to ancient records: those that won through returned changed beyond recognition. Those who were unsuccessful returned confused and disorientated in fact very like many people today.
Confused and disorientated is a good description for many of those who desperately want something to believe in and who rush from group to group, therapy to therapy, religion to religion seeking for something stable on which to base their lives. Unless they can find something they will simply go on in the same way getting more and more desperate.
Thirty years ago before the Alternatives became fashionable you might spend five or six years looking for books or information on the occult, alternative religions, etc. When and if you found it, it would cost you a lot of money. In 1965, twenty years ago, I spent £15 on a book by Dion Fortune, in 1965, £15 was a lot of money. I only earned £25 a week. But because there was so little to read on the subject, I was thrown back on my own meditations, my own thoughts, my own findings. I read what I could, listened to what I was told by my teachers, pondered over it, thought about it and tried desperately to puzzle it all out. I was totally engrossed in my studies and made my way slowly and carefully. I valued what I had and sought to expand my knowledge through my own efforts.
Today there are quite literally millions of books on every alternative subject you can name. There are too many; where once you took what you could get and savoured it, now you are spoilt for choice and there is so much information - most of it of no value at all - that one's own inner work is no longer considered of importance. It has become a case of reading what other people say and write, not what you think, have meditated on and found out for yourself. Everyone writes a book - well that's OK, I've written one or two myself - but I have never based any of my books on other people's books. But I can go into a book shop in New York tomorrow and find at least 15 books that are based on one of mine.
No one wants to work and study and spend time searching things out anymore. Everyone wants to find THE ONE BOOK THAT WILL EXPLAIN IT ALL TO THEM. There is no such book. The only truth to be found is a personal truth, the only findings worth anything are those you have found for yourself. The only knowledge worth having is what you have sought out, tried and tested by your own efforts. That is what Occult training is all about: you, and what you think and know from personal experience. So now, let us look at the title of this lecture and imagine that we are newcomers to all this. "To Serve the Light". The title provokes a series of questions.
* What Light?
* In what way do we serve this light?
* With what do we serve it.
* Why would we wish to serve anything anyway?
* Whom are we serving ?
* Does everyone serve or is it only a few?
* Who have served before us?
* Who will serve after us and is there any point in serving?
* Will anyone serve me?
* Well, we have enough there to last us for the evening I should think.
The First Question Asks:
What is this Light we are supposed to serve?
http://www.servantsofthelight.org/about … light.html